More often you need to escape the crowd and give yourself the 'me time' that you keep yearning for. No, you need not travel to the forest or mountains to find the much-needed respite, you can actually look for the cozy corners hidden in your city streets. There are best cafes in Mumbai are endowed with quirky interiors, and vibrant crowd, that solely thrive on liveliness. Located in the uptown and posh areas of Mumbai, these cafes make for a wonderful place to sit and unwind over a cup of coffee.
Mumbai has a lot of such tiny cafes that have been meticulously designed to give people a different experience. Sit down for a hearty discussion with a close friend, get involved while reading a literary piece from your favorite writer or engage with the cheerful folks while playing a musical instrument, these cafes in Mumbai are the places where you must be headed soon!
1. Garde Manger Cafe, Ville Parle East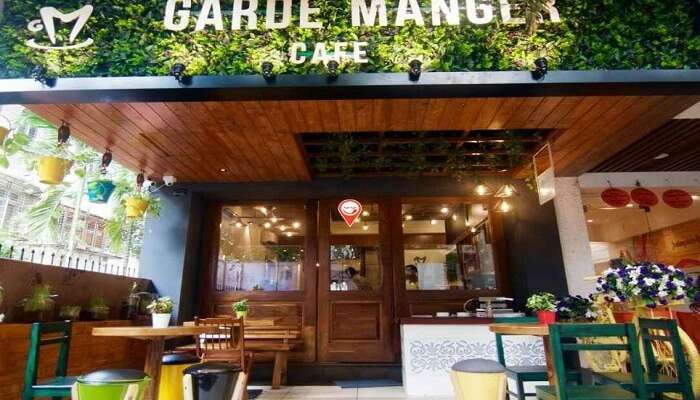 Get the perfect homely vibes at Garde Manger Cafe in Ville Parle Mumbai. Touted as one of the best cafes in Mumbai, the place basks with positivity and liveliness. Get yourself a Tuna Sandwich, pasta or grab a cup of coffee, this place is just perfect for a quick bite while indulging in the best of the vibrant atmosphere around. Happy customers have also reviewed it as a perfect place to hang out with friends. It is one of the top cafes in Mumbai, hands down.

What's special: Berry Blast
Price for two: INR 650 approximately
2. Prithvi Cafe, Juhu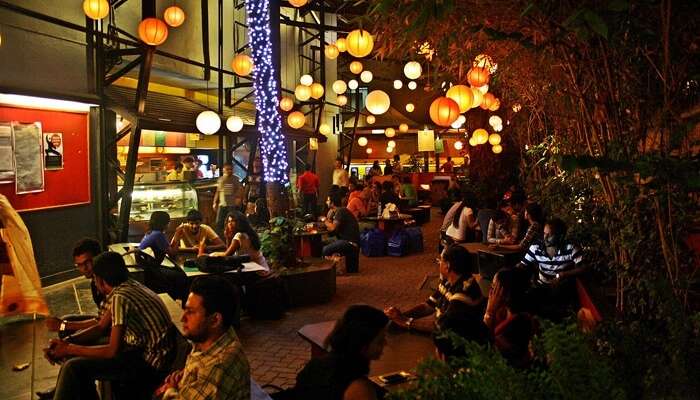 If you are looking for a best cafes in Mumbai for couples with amazing ambiance and outdoor seating then Prithvi Cafe is the place to be. Talk about service, value for money, ambiance or taste, Prithvi Cafe has got you covered. An ideal place for a romantic date under mood-lifting lights, this could be the coolest place to hang out with your beloved. Also, the amazing rates would surprise you for sure.

What's special: Apple cinnamon muffin and cheese toast
Price for two: INR 700 approximately
3. Le 15, Colaba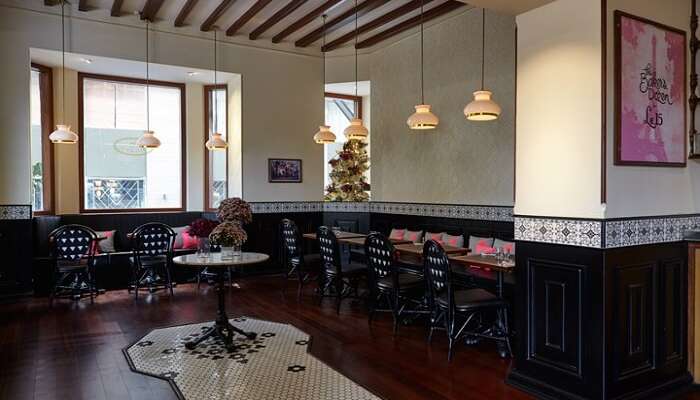 A popular dessert parlor, the Le 15 Cafe in Colaba region makes for a wonderful slip for people looking for some solace and a break from the mundane daily routine. Designed in French style by the owner Pooja Dhingra who has been a true admirer of patisseries, the cafe offers a wide range of delectables to try from which makes it one of the top 10 cafes in Mumbai.
The cool and vibrant colors of the cafe interiors along with traditional French design would catch your attention for sure. And when you are at Le 15, you for sure can boast about visiting India's finest patisserie also ranked as one of the best cafes in South Mumbai.

What's special: Cupcakes, tarts, choux pastries, and macarons
Price for two: INR 1200 approximately
4. Grandmama's Cafe, Dadar East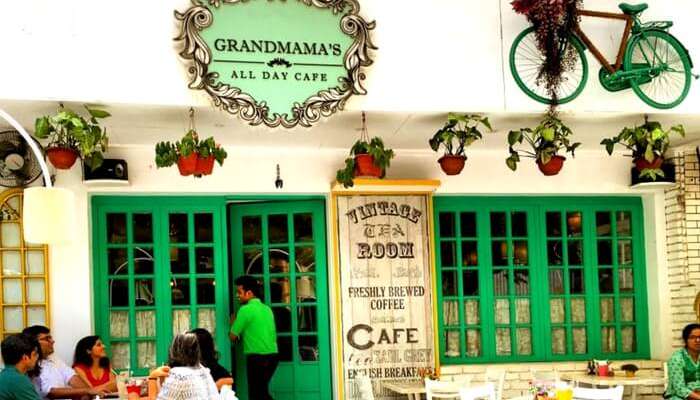 Valet parking, great service, and free Wi-Fi make the highlight of this one of the exciting cute cafes in Mumbai. The café is primarily known for good dessert, American cuisine, and exciting drinks. But it is the cute interiors, ambiance, and decor that takes away all the limelight. Head to Grandmama's Cafe in Dadar and treat yourself to the long due refreshment.

What's special: Mint hot chocolate and mint mojito
Price for two: INR 1100 approximately
5. Zesto, Lower Parel West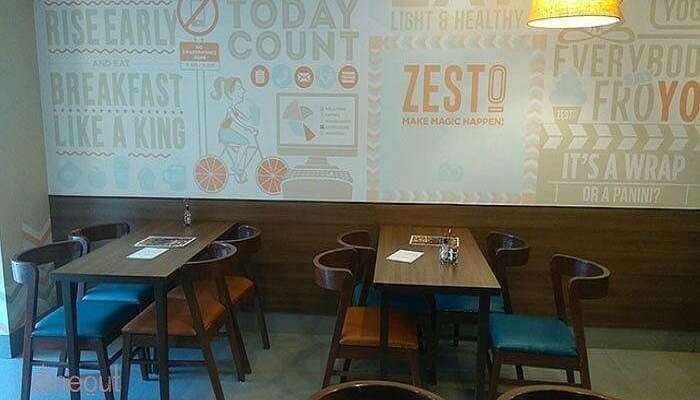 Another one of the highly ranked and cheap cafes in Mumbai, Zesto would leave your enchanted with its stunningly decorated interiors all done up in the mild and smooth light. You can count on this place if you are looking for a high rating yet cheap cafe in Mumbai that has ample of cozy space to get you the moments of solace you have been looking for.
As you head to the cafe here are a few recommendations that you must look forward to. While citrus kick juice is superb refreshing, the Mexican rice bowl could be the spiciest thing that you would find on the menu card. Mac and cheese are equally good to munch on! Do not miss this place if you are a true admirer of design and aesthetics.

What's special: Tuna Sandwich and Berry Blast
Price for two: INR 500 approximately
6. Kala Ghoda Café, Kalaghoda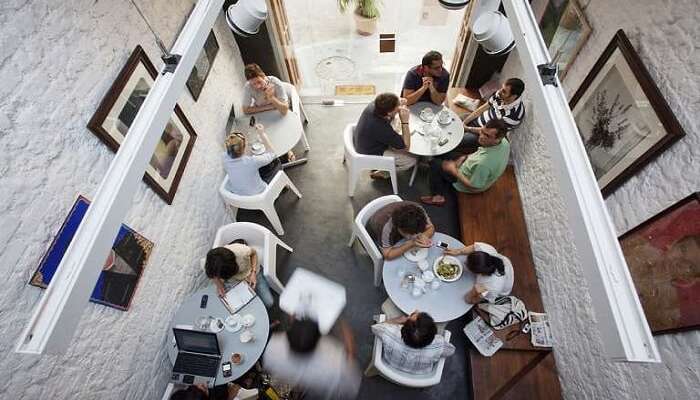 First thing first, for all the snap chatters who just love clicking selfies with the quirky background and go posting their story, this is one of the good cafes in Mumbai that tends to all your internet worries. Yes, Kala Ghods Cafe boasts of good wifi and vibrant interiors. Talk about food and there's no better cafe in Kala Ghoda that offers such wonderful options for a brunch. If you are looking for an ideal place to escape your routine life and enjoy fun-filled moments Kala Ghoda Cafe is the place, plus this place is the exact value for your money!

What's special: Hot cup of coffee and waffles
Price for two: INR 650 approximately
7. Lotus Cafe, Juhu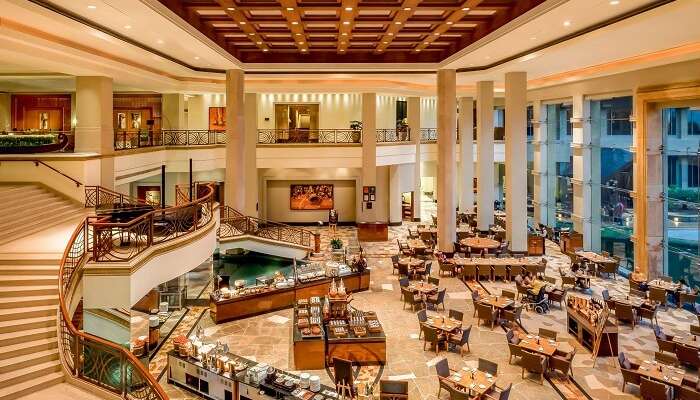 Located inside JW Marriott, the Lotus Cafe is certainly one of the best cafes in Mumbai for everyone looking for a delightful experience along with some good food. At the Lotus Cafe, you get to choose from a wide range of cuisines that include Italian, Continental, North Indian, and Asian. Though this cafe is expensive than what you would normally expect, it still offers its kind of experience. The interiors are wonderfully designed and the atmosphere would leave you elated for sure.

What's special: Live music, Wi-Fi, and brunch
Price for two: INR 3500 approximately
8. Leaping Windows, Andheri West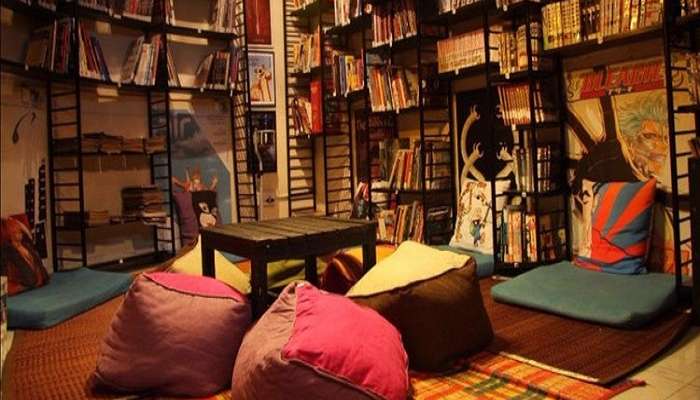 Are you someone who can spend an entire day in the company of books? Just a cappuccino, a book, and you? Then Leaping Windows located in the bylanes of Versova in the Andheri West area is one of the best coffee shops in Mumbai that has been specifically curated for you.
Be it good healthy food, or munchies, Leaping Windows has your eating worries sorted. And there are loads of books to keep you engrossed for an entire day! So happy! Aren't you?

What's special: Cajun Chicken Burger, Nutella Stuffed Pancake
Price for two: INR 1200 approximately
9. Central Perk 7, Kharghar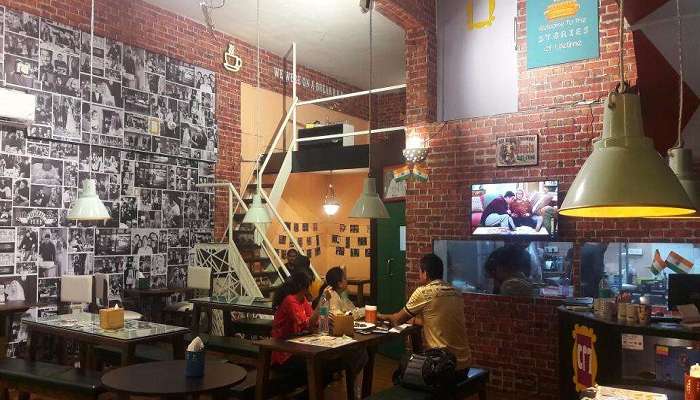 A separate smoking area, good food, free wifi, nice decor, and lively crowd, that's what you find at Central Perk 7, one of the best cafes in Mumbai. Ranked among some of the top unique cafes in Mumbai, the place has a great atmosphere and you can't help but marvel at the collage pictures on the interiors. Also, there are some exciting color combinations that can also be seen in the cafe

What's special: Smoothie Chocolate, Mushroom Risotto, Chicken Steak
Price for two: INR 750 approximately
10. Aromas Cafe, Across Mumbai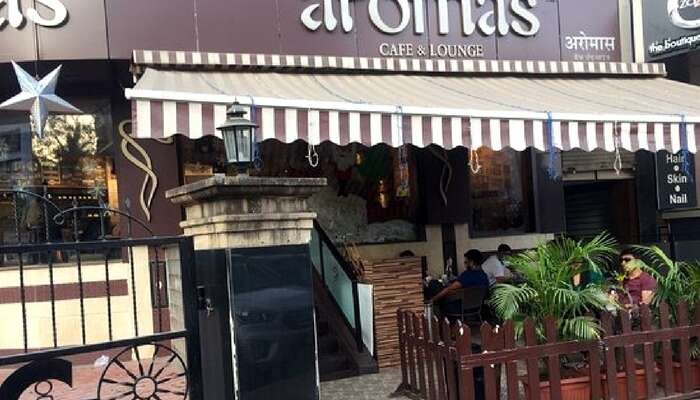 Spread across the top localities in Mumbai the Armas Cafe has been at people's service. Be it serving hot brewed coffee, sandwiches, pasta or delectable hot drinks, Aromas finds you the perfect remedy for a relaxing day. Located in different parts of Mumbai like Powai, Viviana Mall, Phoenix City Market, Juhu, Hiranandani Walk, Vashi, and Oshiwara, the cafe chain is a must-visit for the young crowd.
Price for two: INR 1200 approximately

11. Mockingbird Cafe, Churchgate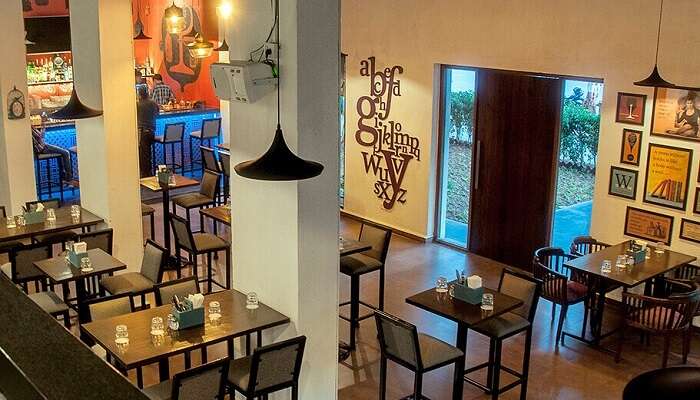 If you like your restaurant aesthetics a tad bit more than your food, Mockingbird Cafe should be one of your top cafes in Mumbai. Although, the best thing about this one is that this cafe does not compromise on the flavors and offer aesthetic. It knows how to handle and offer both. This Cafe Bar adorns an elegant decor that is completed with dim hanging lights and an incredible tiny library as a bonus to making your Instagram look appealing. If you seek a place where you could spend hours just reading and enjoying your hot cuppa, this is the place to be.

What's Special: Baked Nachos and Jalapeno cheese poppers
Price For Two: INR 1700 approximately

12. Birdsong Cafe, Bandra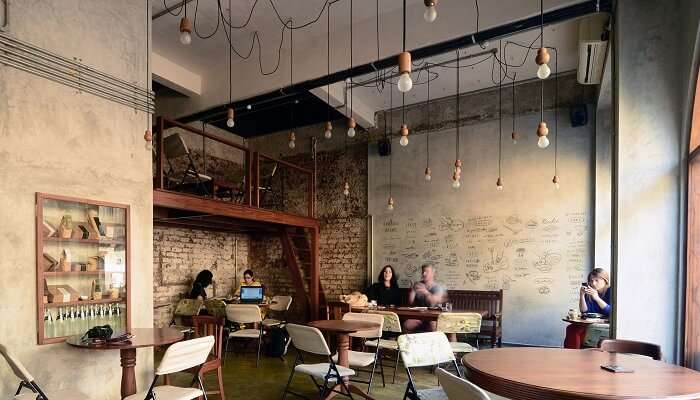 This cafe is in itself located in one of the most instagram friendly areas, hence, the Birdsong Cafe has to be among the top cafes in Mumbai if you are a food blogger or like to pretend like one when out with friends. Birdsong Cafe is sitting in one of the charming cobbled streets and narrow lanes of Bandra that are full of colored houses. The minimalist interiors of this destination is enough to make you fall in love with the cafe. The exposed walls and the elegant wooden furniture makes this destination one of its kind.

What's Special: Turmeric Latte and Americano
Price For Two: INR 400 onwards

13. Leaping Windows Cafe, Versova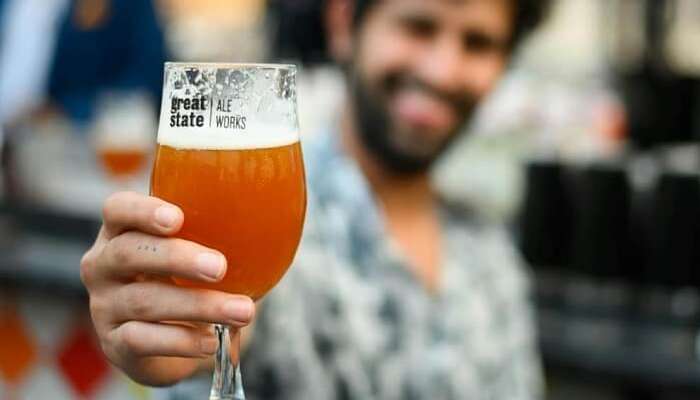 This is one of the most amazing cafes to visit in Mumbai if you want to spend some alone with yourself, with some books, or simply make new friends and chat over a cup of coffee on your favorite topics. The cozy ambiance of this cafe is not something you can find just anywhere. This is the cafe where you can find yourself a cozy nook, order a hot cuppa, and simply lose yourself in the story of your book. The amount of comfort makes you feel like you are sitting in that one corner of your room with a pillow and away from the world!

What's Special: Hazelnut Black and Salted Caramel Coffee
Price For Two: INR 1200 approximately

14. Samvene: The Bagel Cafe, Malad And Thane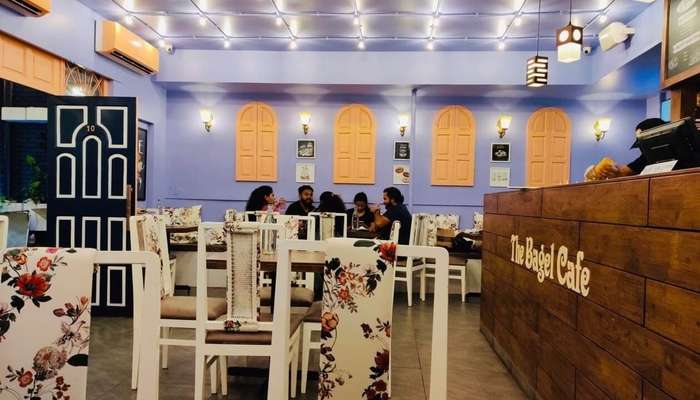 Exuding the French vibes from every nook, Samvene is one of the most classic cafes to visit in Mumbai. When stuck in traffic at the new Link Road, you come across the pretty yellow door of Samvene and you cannot resist entering this cafe. When you enter this cafe, you will be transferred to a French city by virtue of the decor that it adorns. This cafe is truly insta-friendly and has many corners for those perfect shots for your feed. If you seek a cafe for that perfect breakfast date, we recommend you take your bae here!

What's Special: Bagels and Hot Caramel Coffee
Price For Two: INR 750 approximately

15. D'Crepes Cafe, Multiple Outlets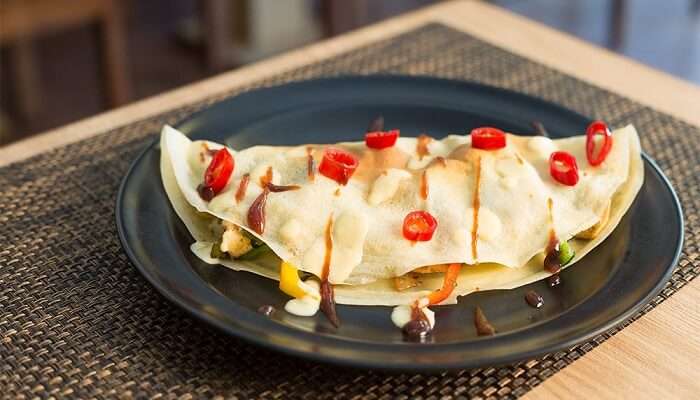 If coffee is what makes your day and sugar is what keeps you moving, head to D'Crepes cafe that has got an answer to your every craving. This cafe in Mumbai has some killer espresso shots that will take all your sleep away and help your sleep deprived self make use of the day. The cafe is home to an in-house library that is everything that you ever need. So, if you and your partner are all about a date that has your favorite cuppa and a book with an incredible story line, make sure you plan a visit to this cafe for a breakfast date.

What's Special: Vietnamese Iced Coffee and Hot Irish Coffee
Price For Two: INR 1000 approximately

16. Cafe Mondegar, Colaba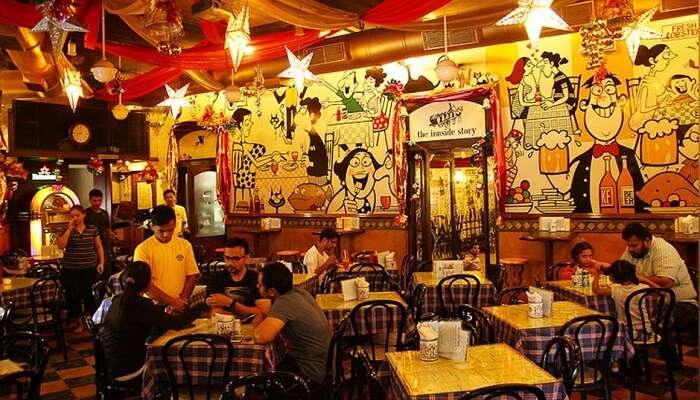 If you have a thing for your American breakfast meals complete with bacon and a plate of eggs, Cafe Mondegar has got some real surprise for you. This cafe has incredible and scrumptious food to offer along with some quirky wall art that will make you fall in love with the ambiance. The evenings here are more of the bar-like vibes and offer a jukebox to shake leg on some classic rock tunes. Many visit this cafe during the college days and lose in the retro trance here.

What's Special: American Breakfast
Price For Two: NA
17. Mirchi and Mime, Powai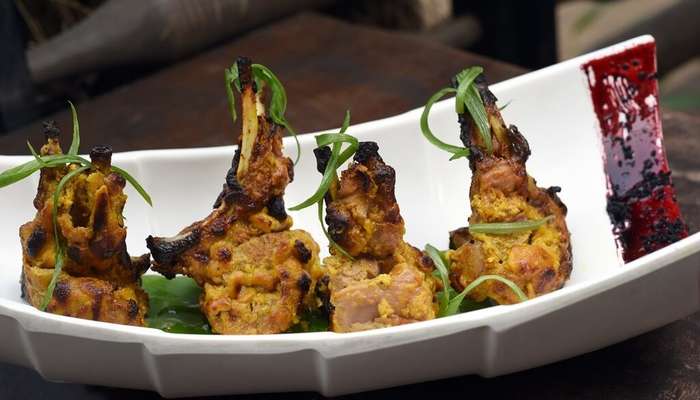 Mirchi and Mime is a café in Powai that is leading by example for many. This beautiful place has differently abled individuals working as employees. The everlasting smiles that the staff greets you with at this café is truly inspirational. The food served here is just simply drool-worthy. From juicy prawns to flavor packed kebabs, there is nothing that you would miss here. You can also find an extensive menu of drinks apart from the gourmet. Make sure you have your bookings made before heading to this eatery.

What's Special: Corn Tikki and Jumbo Prawns
Price For Two: INR 1500 approximately

18. Leopold Cafe, Colaba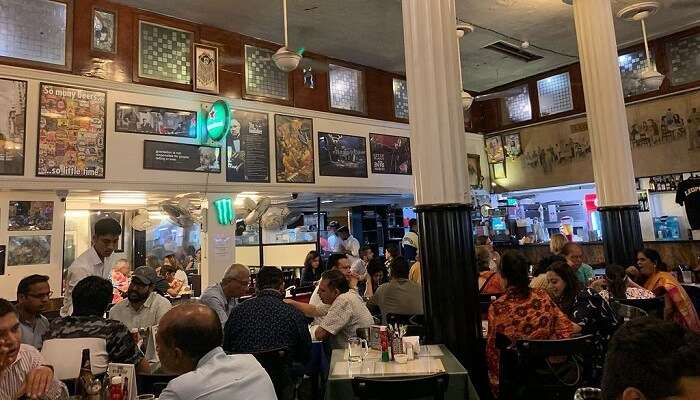 Leopold Cafe is home to several young crowds as the vibe of this cafe resembles that of a college canteen. The old-school funky walls, the nonstop chatter that never seems to die, and the over-enthusiastic crowd make the entire experience worth it. This spot is always packed with various foreigners who are in for a beer and taking a little break from all the shopping in the Mumbai heat. The menu served here is extremely amazing. From snacks to various appetizers, there's plenty you can find here at the prices that will not leave a hole in your pockets!

What's Special: Roast Chicken and Cheesecake
Price For Two: INR 1600 approximately